Website User Guide
The principle purpose of this website is to allow users educating themselves in as much detail as desired about our complete catalog of available products. In addition the site features historical information about our company, a full set of technical and promotional documents.
We offer over 700 components that can be ordered in any color on our color pallet page. Optionally we offer sandblasted or polished finishes. Approximately 50% of our components are floor tiles. The remaining 50% consist of various accessories such as wall caps, pool copings, etc. All our products are manufactured in the USA using a concrete batching process.
Our vast product catalog allows for virtually infinite possible combinations of products, colors and finishes. To quickly determine which products are available we created a menu driven website leading to categorized product web pages and individual images of all available products. It allows for selecting products and colors efficiently upon getting familiar with the functions of this site.
To place an order the following information is needed:
1. Product Name
2. Product Dimension
3. Color Name and Number
4. Finish (optional)
Click on the image below to view a typical product page of this site including explanations and hints: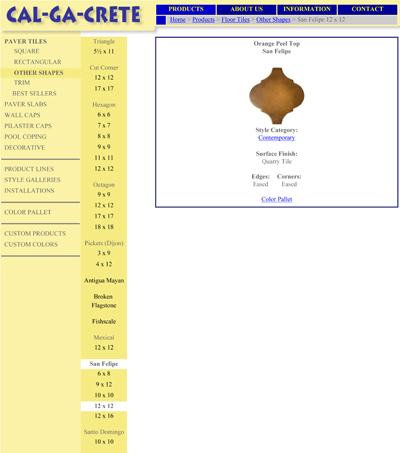 All products are categorized primarily by shape and dimension. For example, if you desire to see 16"x16" square shaped tiles only, follow these active links (for website related terminology definitions click on the image above):
1. Click on "Products" in the top menu bar.
2. Click on "Paver Tiles" in the sub menu bar (on the far left side available on most web pages).
3. Click on "Square" underneath "Paver Tiles" on the far left sub menu bar.
4. Click on "16x16" located in the middle left sub menu category bar.
Now you should see the product view page detailing all 16"x16" tile products currently available. Alternatively you can use the "Quick Links" menu on our home page. "Quick Links" will lead directly to our most popular web pages.
Please note, this site is definitive in terms of available products. If you can't find a specific product name under the dimension you are viewing, that means it is not available at this time. Click on any product name above any product image to see what alternative dimensions or accessories are available (not all product names are clickable as of now).
However, you may order a product not shown here, such as a specific tile dimension in a certain style not currently available. This would be considered a custom product. Please contact the factory for further details.
Check our glossary page for further definitions and explanations of industry terms and website functionality (available soon).
---